Turbobeanbags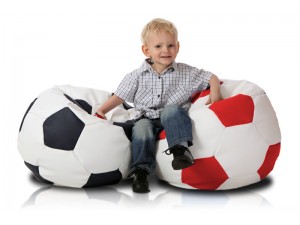 Do you need a low chair for gaming or lounging to watch TV? Do you love the way bean bag chairs hug your body and support your back?
RoomSmart brings you Turbobeanbags, a highly imaginative manufacturer of all things Bean Bag! There are traditional sack styles, huge pillow shapes, sofas, cake shapes, cubes, rectangles, circular slices, and more! Even your favorite sports balls, like Football, Soccer, Basketball, Tennis, and Volleyball are now available in bean bags! The soccer balls are available in multiple fashion colors, so you can support your favorite team, or satisfy your favorite designer mom! There are sophisticated textured, metallic leather-look vinyl bean bags, modern art prints, designer stripes and plaids, and an assortment of wild, bohemian bold prints too! There are small cubes and rectangles that make perfect footrests or low benches for sitting or resting a tray, and they're great for extra visitors! Bean Bags are available in Polyurethane Vinyl, Nylon and Cotton, and you can choose whether to have the covers shipped filled with beans or unfilled so you can recover an existing chair or just fill them yourself! If you're looking for bean bag chairs, you'll find we have exactly what you need, right here at RoomSmart!
There are no products to list in this category.