Royal Queen Wall Bed With Desk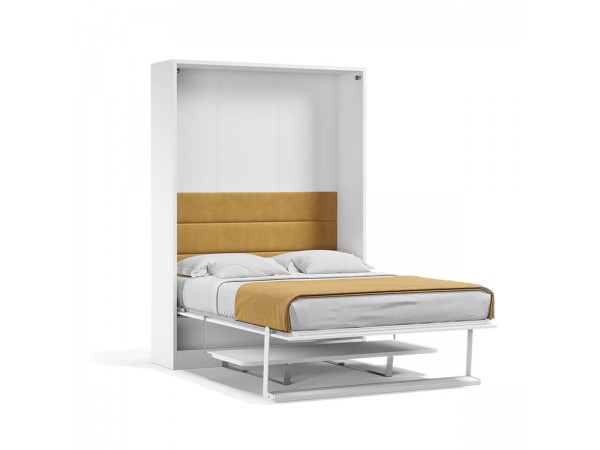 This luxury queen-size Murphy bed is a part of the Royal collection of space-saving furniture for a smart and comfortable home.
The Royal Queen Wall Bed can be integrated with a sofa, desk, or table.
Queen-size Murphy bed with 10 sq. ft. footprint when closed.
The updated hydraulic opening mechanism ensures smooth and effortless operation. The cutting-edge opening mechanism allows the front panel of the bed to stay in a fixed position to avoid accidental opening or closing.
Slat mattress support system and mattress guards for extended comfort.
Self-leveling shelf leg provides additional support when the bed is opened.
Seamlessly integrates with all additional components in the Royal collection.
An optional upholstered headboard can be added to create a finished look and a cozy feel.

*The mattress is not included. A queen-size mattress is sold separately.

An 8 to 10" thick Queen size mattress is recommended.
Mattresses up to 12" thick can be used without a headboard and pillows.
Due to the pre-installed shock-absorbing mattress support system, spring mattresses are not suitable. Any type of foam or hybrid mattress is recommended.

Mattress and bedding weight should not weigh less than 50 lbs and exceed 70 lbs for the lifting mechanism to function properly.

The front panel might need to be split vertically for more convenient delivery. An additional $200 fee will apply.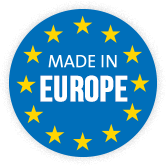 Product Details
Product Dimensions
Bed Closed: 89.8" H x 65.2" W x 17.4" D
Bed Open: 89.8" H x 65.2" W x 86.5" D
With Table: 89.8" H x 65.2" W x 40.8" D


Product Type
Wall Beds
Assembly instructions

Wall Bed - Download Manual

Desk - Download Manual

Bed orientation
Vertical
Usage type
Heavy
TURBOBEDS specializes in luxury children's furniture. We bring you the best themed furniture from Europe. TURBOBEDS is family owned, founded in 2011 and located in Miami, FL.
Where are the beds manufactured?
European Region: France, Germany, Turkey and Poland
What is your product offering?
We offer the best in themed children's beds and complimentary bedroom furniture, including nightstands, bookcases, wardrobes, desks, chairs and related accessories.
The product is marked back order?
Back order means that the product is not currently in stock. We do our best to stock adequate inventory at all times but it is impossible to predict the popularity of an item. For all back-ordered items, please allow 6-8 weeks for the product to be delivered. Back ordered items ship free! If part of your order is on back order but has been paid for the available merchandise will ship immediately and the back order will ship at no additional charge as soon as it comes in stock.
What are the dimensions and weight limits of the beds
Dimensions are shown on the product description page for each specific item. In regards to weight limits, the beds can support an adult up to 250 lbs, or a child jumping on the bed.
What ages are the beds recommended
Beds are appropriate for kids ages 3-15.
Do the beds fit a standard mattress?
Yes, most beds fit normal US sizes. Please double check your model.
Do the beds come with a mattress?
No.
No. Any regular sheets will fit and we offer our themed duvet set for sale here. (LINK TO DUVET).
How can I find the TurboBeds products I am looking for?
Check out the search feature at the top of the page! We also have an intuitive navigation bar.
What payment methods do you accept?
Visa, MasterCard and American Express. We also accept check, wire, and Paypal.
We strive for customer security and ease of mind. We use Authorize.net, a secure payment gateway provider to safely process your order. Authorize.net is a leader in fraud protection services and works to keep your money secure. We take great measures to make sure our website is safe and your personal information protected.
How do I purchase? Do I need to register and can I review before placing?
It's easy! First you will need to register(LINK TO NEW ACCOUNT PAGE). After registering add products to your cart and review your order. You are almost done! Enter any coupon code and proceed to the checkout page. Here the system will ask you for confirmation of your shipping and billing information. Once confirmed the system automatically processes your order for shipment. It hits our warehouse in seconds and our professional team can begin to package! It is our pleasure to help- CALL US 1(855)448-8726 or email us info@turbobeds.com to be personally walked through the process.
What materials are used in the products?
The materials used are product specific. However the main construction of our car beds is composed of durable, quality, eco-friendly thick cut (8-16mm) melamine chipboard. Certain accessories are made of ABS plastic and are injection molded and covered with a durable anti-UV overlay. Metal surfaces have unique coloring applied electrostatically. Textiles used are non-flammable. Paper and PVC stickers used. Varnished wood is painted with polyurethane base and decorative labels.
All products bear high safety and quality certification. Meeting or exceeding the most stringent European safety standards, designed with advanced technology and built with first rate materials all while keeping child safety and pleasure in mind.
Each item has specific assembly instructions. When viewing the product page see the product description. Click on "How to Assemble."
We offer specials periodically. Check our front page for specials and current promo codes to be entered at checkout.
Yes! Please register, fill your cart and then contact us by phone 1(855)448-8726 or email us info@turbobeds.com.
What is the order delivery time and how do you ship?
Depending on order size we use Fedex, UPS or LTL freight service. Lead time from order to warehouse is fast and the biggest determinator in how long is where we are shipping to. See here for more information. There is also a shipping cost calculator in your cart! Registration not required.
Shipping costs depend on weight, dimensions and shipping zone. All prices are published on the carrier web site and directly transferred to our customer. In your cart there is a shipping cost calculator!
Can I check the status of my order?
Yes. Please log in and click on your profile. You can also email us at info@turbobeds.com.
Can I change the ship to address of my order once it is placed?
Yes, it is best to email any changes directly: info@turbobeds.com You will receive confirmation about any change in your order.
Can I ship outside the US - what are the costs / customs?
Yes. Costs are determined on a case-by-case basis. To determine costs, please register, add the items you are interested in to the shopping cart and we will respond within 24 hours with available shipping options and costs.
If you are not entirely satisfied with your purchase return the unused item in its original packaging within 14 days of the shipment date. Please consider you may return any item purchased EXCEPT for used items or items marked as "Special Offers" or "Clearance." Call us at 1(855)448-8726 or email info@turbobeds.com to start the return process. Please note that you are fully responsible for any delivery charges incurred in shipping the item back. Upon reception please allow three to seven business days for processing. You will be emailed confirmation. If processor approves, refund will be issued minus any applicable damage and/or restocking fee. Exchanges are on case by case basis. Restocking fee of 30% will be applied to any approved refunds.
Unfortunately we are NOT able to ship to a PO box.
Two Year Factory warranty against manufacturing defects such as breakage, deformation or discoloration. Accessories have a one year warranty against manufacturing defects such as breakage, deformation or discoloration. Please read the instruction manual for proper cleaning and care procedures. The warranty does not cover breakage, deformation, discoloration, wear and tear due to improper use or cleaning.
How can I obtain replacement parts?
Parts are available by request. Please email info@turbobeds.com.
How do I contact customer service?